Crosscut Saw Sharpening References
Crosscut Saw Manual
The best single source for how to sharpen your crosscut saw. Explains how to use and care for a crosscut saw, including cleaning, straightening, jointing, fitting rakers, pointing up cutter teeth, setting teeth, and testing the saw.
The Crosscut Saw Filer - DVD by Warren Miller - DVD/video on sharpening crosscut saws from USFS, Missoula Technology and Development Center (MTDC)

Ninemile Wildlands Training Center (NWTC)
USFS Training Center, Lolo National Forest, Montana, Holds week long Crosscut Saw Maintenance and Sharpening courses that are open to the public.
New Tools for Old Saws - Crosscut Saw Tools
Detailed plans for saw sharpening tools including a freestanding saw vise. From USFS, Missoula Technology and Development Center (MTDC)
'How I sharpen a crosscut saw' - A video by Dan Dueweke
A good overall how to video with an emphasis on smaller saws
CrosscutSawyer.com
An Online Forum Dedicated to Crosscut Sawyers, Filers, Collectors and Enthusiasts!
A modified Morin gauge with a dial indicating raker gauge
Takes the guess work out of the normal hit and miss process
A Modified BallPeen Swaging Hammer
Better then the vintage originals

The Badly Rusted and Pitted Crosscut Saw, Will it Cut Again?
A video
From Junk to a Usable Tool - A Reconditioned Crosscut Saw
Some things that are normally not included in "normal" saw service includes a way to deal with pitted cutters to get a clean sharp cutting surface, procedures to set very hard brittle teeth without risking breaking them off, welding teeth, cracks and the whole saw and punching holes
How a Crosscut Saw Really Cuts
Filing Cutter Teeth - Lighting and Other Considerations
A neat mirror trick but no smoke......
Cutter Teeth Angles - What angles seem to work and How to measure them
Raker fitting and swaging details
Some ideas on Swaging Rakers
Some things not covered in the Crosscut Saw Manual
A custom made Sloping Filing Plate Raker Gauge
Some filers use this type of raker gauge. If you are handy, there is enough detail here to make one
Crosscut Saw Tooth-Setting Tool
A USFS designed tooth setting tool - Construction details - along with suggested settings and tool use.
Vintage Simonds Sharpening Instructions
What would have came with vintage saws in the day
Instruction and Training by Dolly Chapman
Offers individual training and group workshops, Calpine, California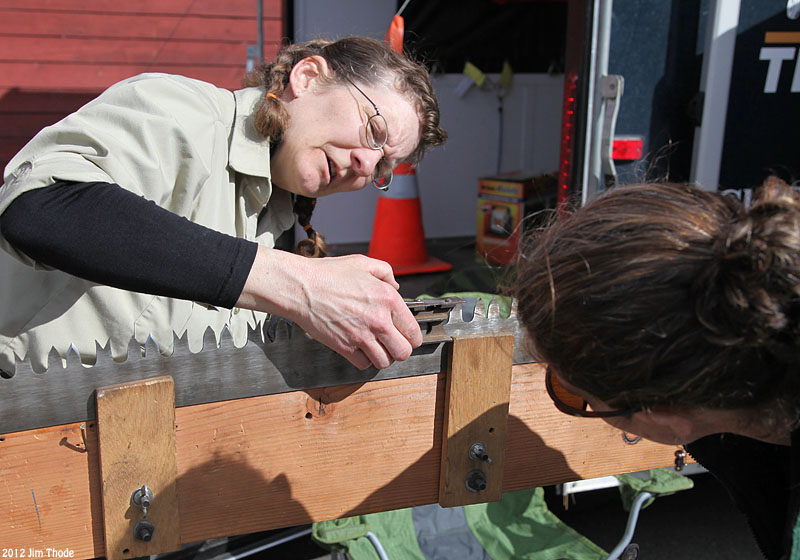 For information the BCHW Saw certification program and how to safely use crosscut saws and chainsaws click here
Other Crosscut Saw Support Information
Click here for few Crosscut Saw related photos

The Other Binds, A look at stresses affecting log bucking


Comments, suggestions or questions are always welcome.
Jim@JimThode.net